Simplified Communication via a D-Link DGS-1005A Desktop Switch
In this blog we'll show you a simplified setup to reduce time commissioning communications. The example system would be a site using an SMA Energy Meter together with SMA Solar and Storage inverters with built-in WLAN capability, communicating together using a low cost D-Link DGS-1005A Desktop Switch.
A common problem technicians can face when installing new solar and/or storage systems, is how to ensure the data communication setup is simple and effective so the plant not only operates correctly, but also displays the necessary information on Sunny Portal. When the solar and storage inverters are from SMA's new range which have built-in WLAN capability, there is a simple way to network all devices which is robust, and also significantly saves time and costs during installation.
Simple setup with a low cost Switch
Rather than needing to wire an SMA Energy Meter all the way back to a home's Internet modem, it is possible to use the setup shown in the following diagram.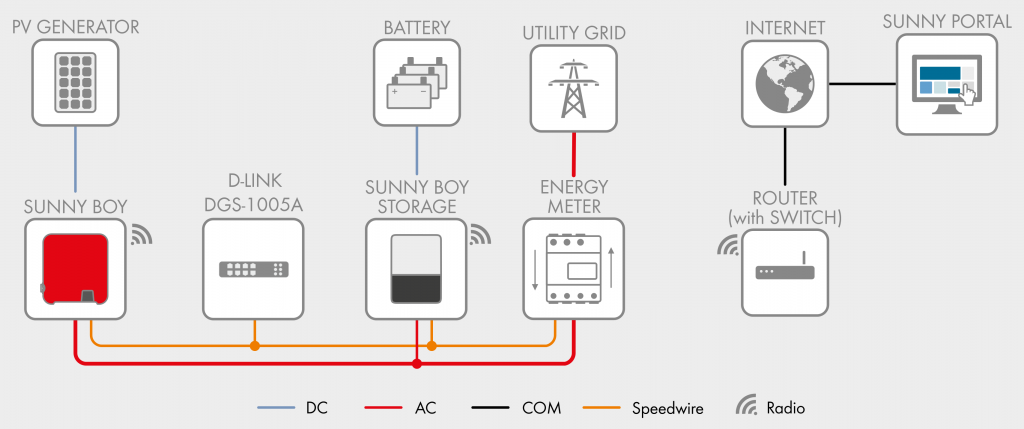 In this setup, the SMA Energy Meter and both the Solar and Storage inverters are connected to a simple switch (in this case a D-Link DGS-1005A Desktop Switch), with the inverters then using their built-in WLAN capability to connect to the router and then to the Internet and Sunny Portal.
Advantage of this setup
In this setup the installation technician does not need to install any physical communications link from where the SMA Inverters and Energy Meter might be installed, to the home's router. This simplifies the installation and also reduces time and labour for the communications setup. In addition to this, since the inverters are always able to communicate to the SMA Energy Meter, even if the connection to the router or Sunny Portal was interrupted, operation of the system would continue normally until Internet communication was restored.
What does the view from Sunny Portal Look like?
The view in Sunny Portal for this setup is the same as if all SMA inverters and Energy Meter were directly wired to the router.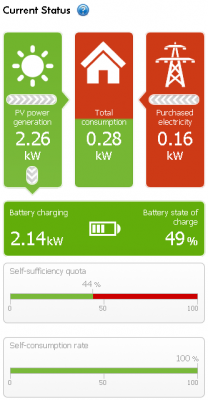 Within the Sunny Portal web interface, both the "Current Status" display, as well as live and historical information displayed in "Energy Balance" diagrams are correctly shown. This means customers can still know exactly how much energy they are using from each source, at any time and therefore can make their own decisions about how to increase their solar self-consumption.
Summary
By using a simple low-cost D-Link DGS-1005A Desktop Switch to connect all SMA Solar and Storage inverters, plus the SMA Energy Meter, an installation technician can reduce the time and labour involved to establish communication links and get data to display correctly on Sunny Portal. It can also better assure reliable operation of the system in the event of a loss of communications to Sunny Portal.
NOTE: The setup described above is only valid for an SMA PV inverter (≤10kW) with built-in WLAN capability and/or an SMA Sunny Boy Storage inverter. For further clarification or system design questions relating to SMA products please contact solaracademy@sma-australia.com.au
https://old.sma-sunny.com/wp-content/uploads/2017/12/simplified-communication-d-link-smasolar.jpg
676
1400
Scott Partlin
/wp-content/themes/enfold-child/images/SMA-LOGO-Color_s-1.png
Scott Partlin
2018-02-16 12:44:21
2021-08-17 15:18:15
Simplified Communication via a D-Link DGS-1005A Desktop Switch