Giving the Gift of Solar: SMA and GRID Alternatives
The sun was shining brightly last weekend as SMA and non-profit GRID Alternatives installed solar for a Northern California homeowner. Nine volunteers from SMA America and GRID Alternatives worked over the course of two days to complete a 2.3 kW residential installation in Yuba City, California, for the well-deserving Singh family.

The Deserving Family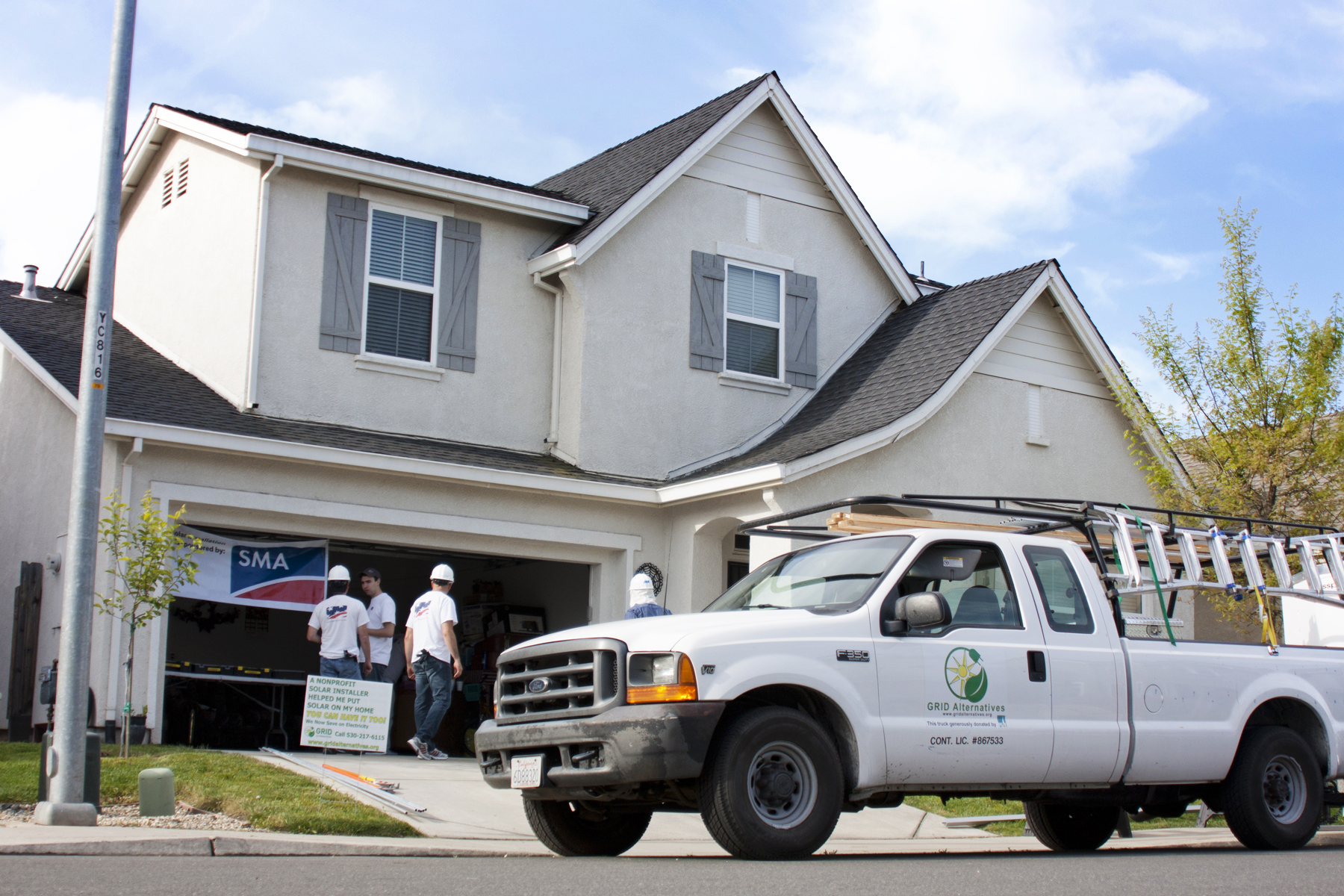 The Singhs, a family of five, moved to the United States from India in search of a better life in 1990. Jagbahr Singh has spent the last twenty years in the demanding agriculture industry working as a farm laborer.  Every month Singh would set aside a small amount of savings to purchase a home for his family. Two years ago the dream of owning his own house became a reality. The Singhs purchased their first home in Yuba City, California.
What the Singhs weren't expecting is the high cost of homeownership. The electric bills in the hot summer months were more than they expected, and they soon fell behind on their monthly utility payments. Mrs. Singh was skeptical when she first heard about receiving solar at no cost through GRID Alternatives. She had been approached before by companies that had hidden fees and were too expensive for the one-income family.
"Through our corporate workday program, companies can gain hands-on solar training, enjoy team building and most importantly, provide community service. The incredible volunteer teams that sponsors like SMA provide make solar happen for families that would otherwise never be able to afford it.  And- everyone has fun!" – Rebekah Casey, development officer for GRID Alternatives
SMA and GRID: A Perfect Partnership
When GRID Alternatives asked SMA America to partner and provide solar to low-income families, it seemed like the perfect fit. SMA is dedicated to giving back to the community, and GRID Alternatives has built a credible reputation for giving back in the solar industry. Employees at SMA America were excited to gain hands-on installation experience while contributing to the community.
"When I asked SMA employees to volunteer their time to install solar for the Singh family, I was overwhelmed by the response. More employees were eager to help than we needed. It was amazing to see that my co-workers were so passionate about the cause and eager to learn about installing PV."   – Mike Mahon, technical trainer for SMA Solar Academy
Once the installation was completed, the donated Sunny Boy 3000-US was turned on and immediately began producing 2 kW more energy than the Singhs were consuming. The Singhs are looking forward to getting back on track with their energy bills. Mrs. Singh plans on putting aside the future money saved from their new PV system for their children's college educations.
SMA has also supplied GRID Alternatives a Sunny Boy 5000-US for a second project site located in Yuba City, scheduled to be completed this month.
https://old.sma-sunny.com/wp-content/uploads/2013/04/IMG_9232.jpg
1200
1800
Melissa Womack
/wp-content/themes/enfold-child/images/SMA-LOGO-Color_s-1.png
Melissa Womack
2013-04-26 09:31:19
2021-01-05 13:20:44
Giving the Gift of Solar: SMA and GRID Alternatives