SMA Sunny Tripower CORE1 Inverters: Repowering Ready!
Would you like to discover a new level of PV performance? Then this blog post series on SMA Repowering is for you! In this article, our repowering expert Thorsten Hoefer shares insights on which aspects to consider when choosing an inverter for a repowering project and explains which SMA inverters are repowering ready.
When it comes to repowering, usually people first ask about an inverter's power and the AC voltage. While power is important and most commercial inverters operate at 480V/277, power and AC voltage should not be the determining factors in choosing a repowering inverter replacement. Instead, the maximum power point tracker's (MPPT) operating voltage range is what we would recommend focusing on first.
When evaluating 600V DC systems for repowering, most systems have an MPP-voltage between 350 and 420 V. This voltage drops slowly over time as the modules get older. On a hot day, values can reach as low as 300 V and sometimes even lower. Even if your system isn't experiencing these low voltages yet, it's recommended to prepare and take the future MPPT-voltage of the strings into consideration when choosing a new inverter.
SMA's Sunny Tripower CORE1 inverter range has a start voltage of 180 V (after starting the MPP tracking can go as low as 150V) and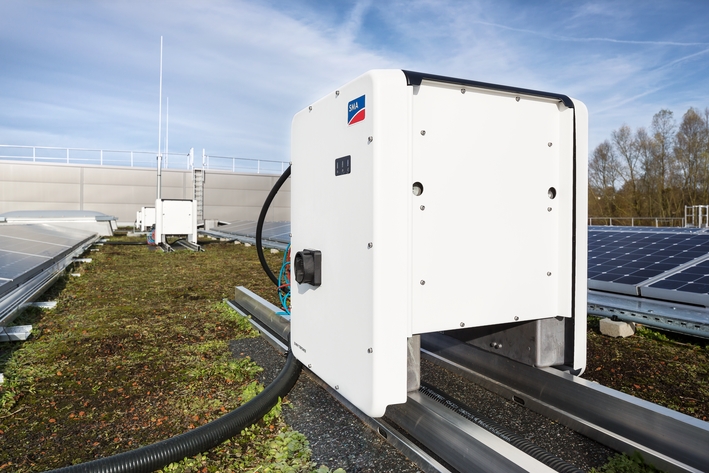 supports any typical system design for its entire expected life span and beyond. For example, our team recently evaluated a repowering opportunity that featured a standard 600 VDC system with an original MPP-voltage of 353 at 25°C(77°F). Despite expected voltage drops due to module aging and external temperature, our CORE1 would still be able to track the MPP of the DC system when it's 275 years old and the module temperature is 65°C(149°F). While it would be great if the system is still around after so many years, what these values show is that by using the CORE1, your system is future proof even if the modules derate faster than anticipated.
One additional value to consider is the rated MPPT voltage range. While the MPP-tracker works between 150 and 1000 V, the MPP voltage range is the range of MPP-tracking that has been used while determining the efficiency of the inverter. It's important to understand the difference.
We recommend using our Sunny Design tool to check the combability of the existing string design and our inverter. Sunny Design includes a comprehensive database of legacy modules. This saves professionals a lot of time because no additional data must be entered to evaluate a design.
Similarly, our Sunny Boy residential inverters' range also starts operating at low voltages. This is advantageous as well, because the first commercial systems used several small string inverters primarily intended for residential applications. In the PV industry's infancy, specialized commercial inverters had not yet been developed.
While it may seem logical to assume power and AC voltage are the first prerequisites to understanding repowering, we've hopefully dispelled that myth and have shown the importance of an inverter's MPP voltage range.
Stay tuned for our next blog post where we'll cover how repowering with string inverters handles the maximum number of parallel strings per MPPT based on the short-circuit-current.
https://old.sma-sunny.com/wp-content/uploads/2020/10/SMA-PV-System-Commercial-Tettnang-5790.jpg
473
709
Alexandra Alejandro
/wp-content/themes/enfold-child/images/SMA-LOGO-Color_s-1.png
Alexandra Alejandro
2020-05-06 10:56:28
2020-12-08 16:29:41
SMA Sunny Tripower CORE1 Inverters: Repowering Ready!